I am proud to say that Toad-allyExeceptionalLearners gave me the Lovely Blog Award. The rules of the award are:
1. follow the blogger who gave you the award,
2. link-back to the giver and
3. pass the award on to 15 new blogs.
So, below are blogs that I don't think have received the award. Please check out these blogs as well as the blogs listed under my Blog Hop for other great resources out there. I am having trouble contacting authors from blogs that have not yet received the award. As I do so, I will add them to this post. I am honored to be among you all! Happy blogging!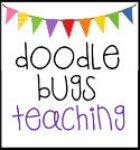 "/>